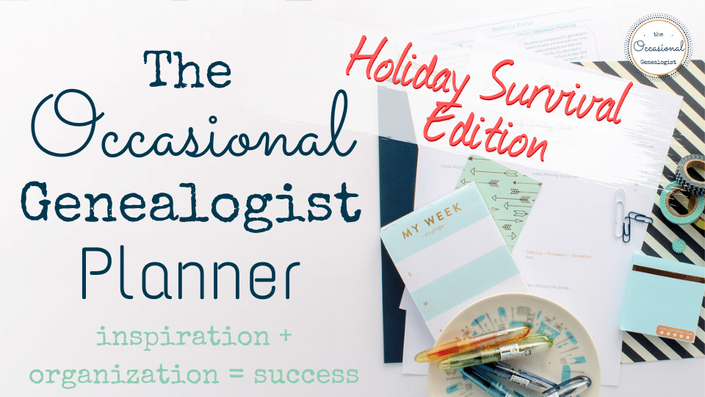 The Occasional Genealogist Planner Holiday Survival ed.
Holiday Survival Edition 2019-2020
This year The Occasional Genealogist Planner is breaking-up.
Just imagine it's 1970 and The Beatles are breaking up. I know. You're heartbroken but now you'll get four something differents, the chance to experience new things and new sounds. It would be awesome if I could take you on a Magical Mystery Tour and provide you with great music but let's get back to genealogy.
The Occasional Genealogist Planner is designed to help you do more genealogy, even when it's hard. Now the Planner does this by splitting into quarters, which are more manageable bites. But not the quarters of the calendar year. I've picked specific times of year when I see a lull in either the crazy-busy side of life, or a lull in genealogy that should be a great time for more genealogy.
But first, we have to survive the holiday season.
That's this edition of the Planner.
The "Holiday Survival" edition is actually a mini-planner. So If you're sure you don't have time for genealogy this holiday season, think again.
The holiday season + genealogy most likely takes one of two drastically different forms for you.
You are either busier than usual, but potentially facing more "family," which is what genealogy is all about, right?
Or maybe you've gots some extra down-time during the holidays you can spend on genealogy (but will the weather keep you home?).
This edition of the Planner has you covered with inspiration if you're gathering with family, just trying to keep a little genealogy in an over-full schedule, or you have an unusual chance for more genealogy.
You'll be able to choose from DNA suggestions as well as traditional research.
Most importantly, use the inspiration of "New Year's Resolutions" to get inspired and organized to jump into genealogy for the next edition, launching in late January, for a February start. That's right, when your actual New Year's Resolutions have been left by the wayside, The Occasional Genealogist Planner will be here to help you get going with your genealogy, again.
With The Occasional Genealogist Planner, you get an organizational tool, but you're also getting the inspiration to kick-start your planning. The Planner is flexible so you can work with what you've got.

Take the next three months and set yourself up for success.
The Planner will help you do this by offering your choice of planner/scheduler/calendar or a unique tool to help you recognize what's already on your plate and how genealogy can fit in.
Next, pick from a handful of worksheets or project ideas so you can focus on one part of research or improving a skill.
Remember, this is a mini-Planner. You won't be bombarded with every option out there. You've only got three months and you've probably got something to do besides genealogy in that time!
Now put the two together and you've got...

What you're buying.
---
The Occasional Genealogist Planner Holiday Survival Edition is a mini-planner delivered digitally. You will NOT be mailed a physical product.
You get digital planner pages. That is, a printable, dated goal planner for November 2019 to January 2020. You get this in an easy, "print it all" version as well as separate files if you only want to print select pages. This is the "organization" part of our equation.

An "at-a-glance" printable to help you get a grip on what's going on during this holiday season as well as a guide to using this printable.

Holiday Survival "Guides" with inspiration and suggestions if you want to focus on DNA or traditional genealogy. Both focus on opportunities with family gatherings. You know, those time when you can gather DNA samples or oral history --- yeah, legitimate genealogy combined with family fun! These are an "inspiration" option.

A small selection of worksheets. This gives you choices without overwhelm and can help you focus on one part of research or improving a skill. These are an "inspiration" option.

Lots of bonus material for the overachiever. I've included some popular forms from other Occasional Genealogist products and courses if you happen to have more time during the holidays and want to tackle even more genealogy.

A discount on the next edition of the Planner. There are advantages for me and for you in breaking the Planner into editions sold through out the year. I want to reward those who are consistently using the Planner as well as encourage you to try and make genealogy a regular part of your year.
All the printables are provided as color PDFs. However, you can print them in black and white if you prefer. This edition of the Planner does not include fillable PDFs.
This product is not available.
Why buy The Occasional Genealogist Planner?
Let's face it, just because you love genealogy doesn't mean you get to do it as much as you want.
I'm a professional genealogist, I do genealogy almost everyday, but not my own.
I understand wanting to be able to do more genealogy and not being able to find the time. I also understand what it's like to solve really difficult genealogical problems, using time-tested methods versus so called "shortcuts" that will leave you frustrated in the end.
The Occasional Genealogist brings my two different experiences together to help you do great genealogy despite the interruptions.

The Occasional Genealogist Planner is a tool expressly designed to help you use time-tested organizing/time management skills (i.e. a planner) to help you make time for genealogy. It includes exclusive genealogy material designed for any Occasional Genealogist.
This isn't a tool suggesting you do genealogy every day to make progress---when you're struggling to do genealogy once a quarter. It isn't a tool that requires you find a three-hour block of time to use it.
It's a tool for any Occasional Genealogist who wants to stop saying they want to do more genealogy and start doing more genealogy.
Product Creator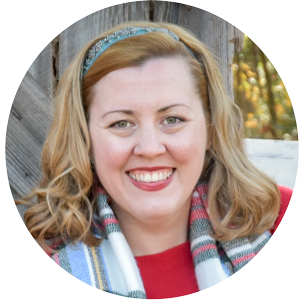 An avid genealogist for almost thirty years, Jennifer has been a professional genealogist since 2005. She first began working as a full-time professional in the Genealogy Department of the Daughters of the American Revolution (DAR). In 2008 she decided to move on to new challenges and left the DAR to start her own company, J.P. Dondero Genealogy.
Jennifer's professional specialties include southern research, genetic genealogy (DNA), and most recently "Occasional Genealogy." In addition to professional research services, she is the author of The Occasional Genealogist, a blog specializing in techniques for genealogists who have to do genealogy in less than ideal (i.e. short) amounts of time.
She is a 2008 graduate of the National Institute on Genealogical Research (NIGR). She has also attended the Institute of Genealogy and Historical Research (IGHR) multiple times since 2005, as well as attending and lecturing at national and local conferences.
This product is not available.